The winners of the 2022 Civility in Politics Awards were announced today at an event in London. The scheme aims to reward and encourage thoughtful, reflective and co-operative public debate.
Over 200 nominations were received in 2021 for this round of the Awards.
View photogallery from the Civility in Politics Awards 2022
Civility in Politics Politician of the Year 2022
Joint winners
Chris Bryant MP
"I am delighted and rather surprised to receive this award, not least because I can be quite fierce in my questioning of ministers. But politics doesn't have to be brutal. Our opponents are human and nobody has a monopoly on truth, so I try to be polite, civil and empathetic in every engagement. In fact I suspect the public would be surprised how much MPs cooperate across the party divide. We may growl at each other in public, but often our engagement with each in private is perfectly amiable. We should show that more often. Manners maketh humanity."
Robin Swann MLA
"Someone once said - 'To lead with civility means you've decided as a leader – it's better to steer away from potential chaos and grow through simplicity by treating those you lead with respect, trust, honesty, effective communication, fairness, support, flexibility, resilience, a positive temperament, and ongoing development and encouragement.' I strive to do this on a daily basis.
"I am delighted to accept this award on behalf of all the health and social care workers in Northern Ireland. It is they who carry the heavy load every day; it is they who are the real winners of this award. It is my pleasure to serve them."
What the judges said:
"In a competitive field the judges felt Robin and Chris stood out. Robin remained calm and collegiate in the face of huge pressure, including death threats towards his family, as the Health Minister in Northern Ireland. He challenged politicians who gave cover to those fuelling divisions. As Chair of the Standards Committee Chris has been responsible for marshalling commitments from people across the political spectrum to hold those in power to account, striving to maintain standards and facilitate scrutiny, of his own side as well as others. Both attracted praise and support from across the spectrum and are worthy winners."
The Politician of the Year Award comes with a £3000 prize fund for charitable causes of the winner or winners' choice. This year the fund will be shared between the Mabon Trust in the Rhondda, and Good Morning Ballymena, Good Morning Ballycastle & Compass Advocacy Network Ballymoney.
Civility in Politics Bridge Builders of the Year Award 2022
LGA Civility in Public Life Programme
Chairman of the LGA, Cllr James Jamieson, said: "This is a fantastic achievement and the LGA is incredibly proud to be recognised for our work. The Civility in Public Life Programme was launched as a cross party effort to address the issues of abuse and intimidation all democratically elected representatives are facing and promote high quality civic debate amongst politicians and citizens. Creating an environment where people of all backgrounds feel empowered to engage in local democracy and improve representation in our communities is essential for the future of local democracy.
"This award is a testament to the hard work of the councillors and officers of the LGA in delivering this ongoing programme of work that provides councillors with the essential tools, knowledge and support they need to perform their roles effectively."
What the judges said:
"The judges were hugely impressed by this cross party initiative from the leaders of different groups in the LGA. In response to rising hostility they worked together to support England's 18,000 councillors and update the code of conduct. This meant working with partners including central Government and the police; to develop new policy research; and to seek legislative change where needed. In particular the nomination highlighted where leaders had used their voice where it was strongest - in their own groups - to challenge behaviour. They are worthy winners."
Civility in Politics Campaigner of the Year 2022
Richard Ratcliffe
"This award is a great honour. But also a real surprise - not just because of how amazing the others on the shortlist are. But also because campaigning for stories like Nazanin's and mine involves living in a bubble, coping in compartments - only selectively noticing the world outside. It's only after that you start to realise the care beyond, that you see the shared tears in officials' eyes. Yet it always takes a village to get someone home, to face the biggest problems. Our family is indebted to so many people - who took our problem onto their shoulders, and together over the years got the government to listen. For everyone out there who sometimes loses faith that the world can't be changed, for me this Award will always be a reminder that this year you all changed ours."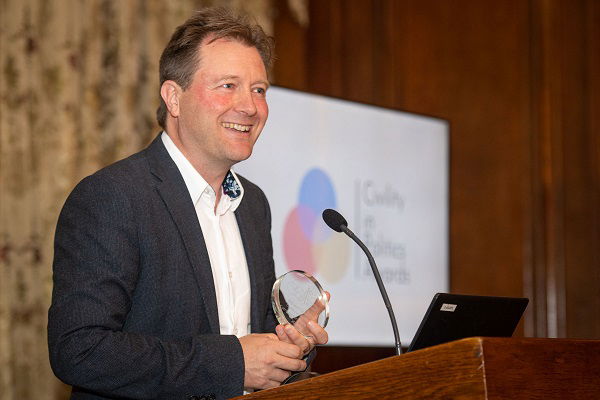 Richard Ratcliffe
What the judges said:
"Richard Ratcliffe's tenacious campaigning for years challenged a succession of government ministers. Determined, respectful and resolute the judges agreed with the judgment expressed in parliament on the day of Nazanin's release "he has raised the bar for husbands everywhere'.
"Richard's nominators praised his " respectful, dignified campaigning to free Nazanin", highlighting it had "brought about a quiet revolution in the way in which political hostages are talked about around the world… Even when careless words by Boris Johnson caused a new court case to be brought against his wife in 2017, Ratcliffe allowed himself 'no space for rage'. That is not to say that he has kept his head down; on the contrary, he worked tirelessly to keep his wife's plight in the public eye and to get politicians to feel the urgency of her situation."
Civility in Politics Daniel Stevenson Award 2022
Sir David Amess
What the judges said:
"David was loved for his ability to connect with everyone. His friendships and ability to work across the house, often with people with whom he disagreed on the most divisive of issues, was especially cherished. Colleagues continue to be left reeling by his tragic murder and miss David deeply - they also told us how the continue to be inspired by his example."